De multe ori am tot dat ca referinta pentru diverse lucruri ce se pot face cu Jquery cu MVC ba un blog, ba altul. Si niciodata nu am gasit un blog post complet.
Asa ca am incercat sa fac un post de referinta despre ASP.NET MVC cu Jquery(Am folosit MVC 3 , Razor si Jquery). Si a iesit asta: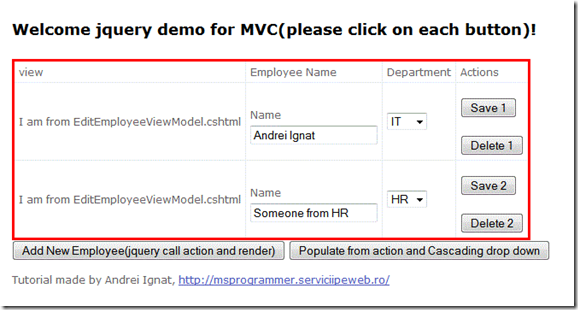 Ce puteţi găsi în acest post:
1. Cascading dropdownlist (a se vedea Populate from action and Cascading drop down)
2. Populează un tabel dintr-o Vizualizare parţială (a se vedea butonul Add New Employee(jquery call action and render)
3. Cum să interceptati eroarea dintr-o actiune (apăsaţi Save 2)
4. Cum trimiteti un  parametru id (long) de la javascript la acţiune (apăsaţi Delete 1 sau Delete 2)
5. Cum trimiteti  obiecte (Employee) din javascript la acţiune (Save  1 sau Save 2)
Fără alte formalităţi, acesta este proiectul.